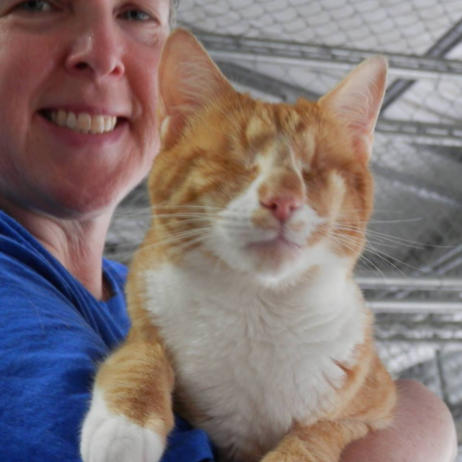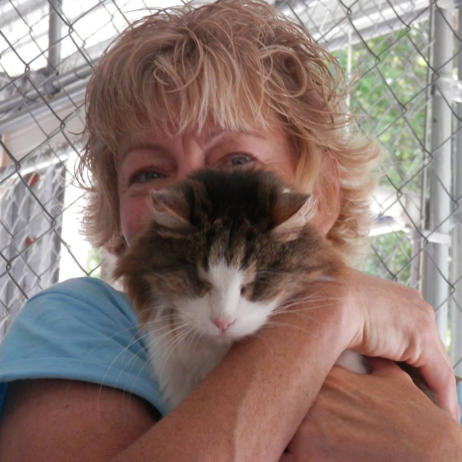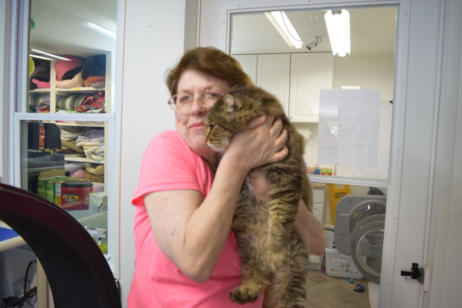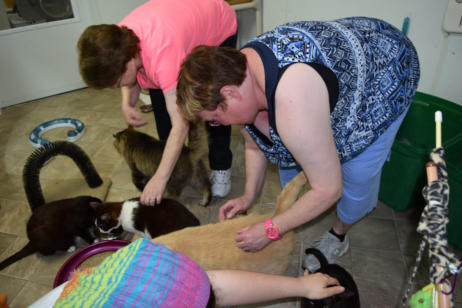 Thank you to our visitors that came to help
care for & play with the cats!
Sharon & Melissa playing with the cats!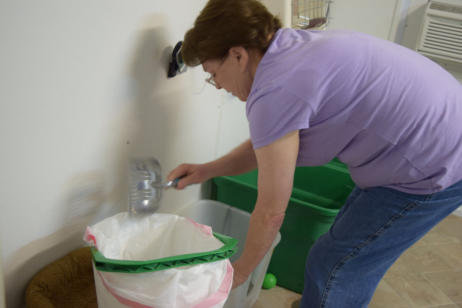 Melissa hard at work scooping some of our approx. 70 litter boxes
YOU can come visit and stay at our guest house. Just email
alana@blindcatrescue.com We are open Monday - Saturday
until 4 pm, if you are in the area and would like to visit.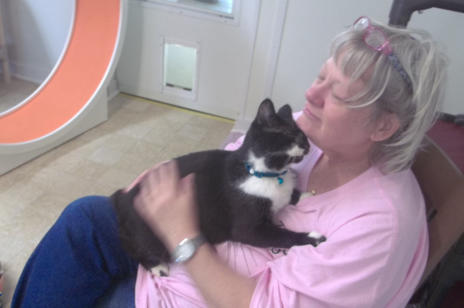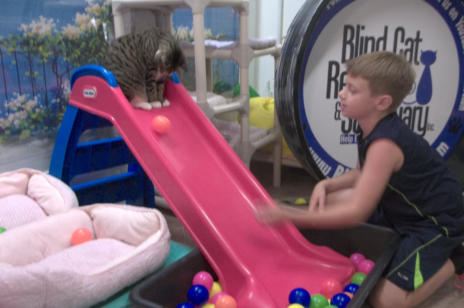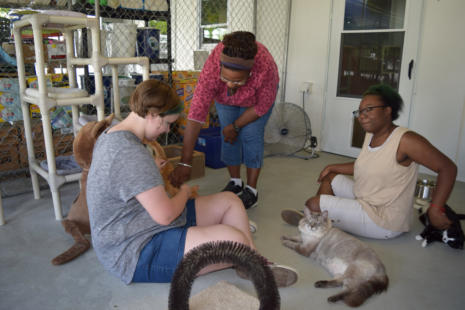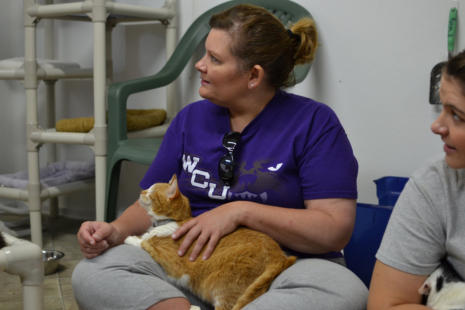 Socks trying to take off Cassie's hat while she is trying to do live tour
Gina getting some loving!
Thank you so much to everyone that came to visit
the cats for our open house.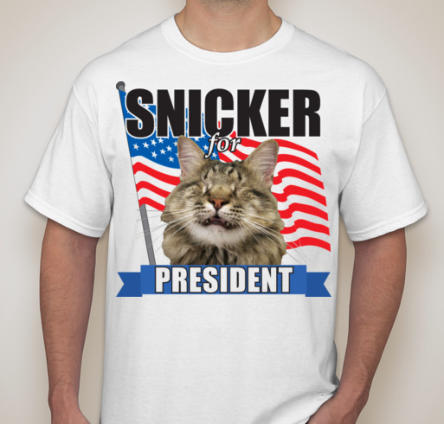 Thank you everyone that helped with our
Shirt fund raiser! You raised $3690!!
That will spay/neuter 92 cats & prevent
many hundreds of homeless babies from
being born! You guys Rock saving so many lives!
The shirts will be printed now that the fund raiser
is over. In the US you should
expect
your shirt approx. 6/28.
International is
shipped the same time US is so they will be on their
way.
Each newsletter we would like to feature one of
you! If you would like to share something with us,
we would love to read it!
Email Alana@blindcatrescue.com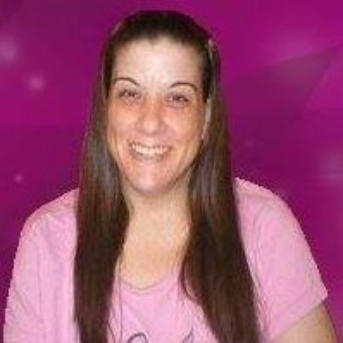 I happened to come across BCR while looking for animal live
cams. The first room that I saw was the FELV+ room and I spotted
a few tabbies in the room. I have a soft spot for tabbies and I
wanted to keep watching. I quickly fell in love with all the babies.
I saw Taffy on a live tour and wanted to find out more about her
too. She is very much like me in that she gets very temperamental
and she makes me laugh so much.
Mia's Story - THE YES FLY LIST
By Mark Yarry
I was twenty four years old and having served four years as one
of the few Americans fighting in the French Foreign Legion.
( How I got there is another story.) During my four years in the
Algerian War, all I did was save my money.
It all started at the age of fourteen, living a couple of miles away
from LaGuardia Airport in New York City and I was IN LOVE.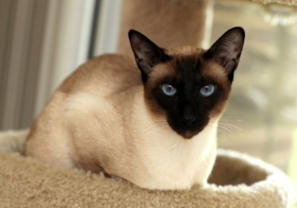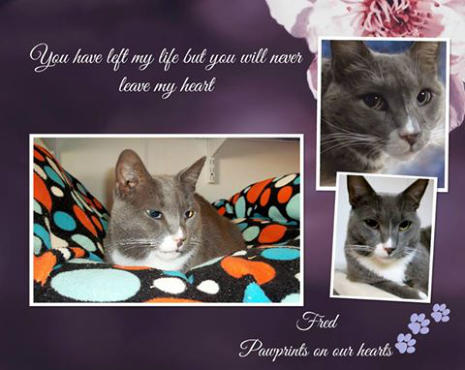 Fred's condition sadly continued to deteriorate
and we made the painful decision to let him go.
His necropsy said it was the right decision. He was
ravaged by cancer.
He was a very nice fellow who will be missed by all.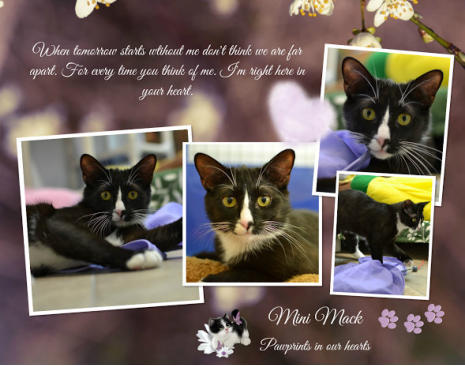 Mini Mac also continued to deteriorate and we made the decision
to let him go. His necropsy said he was fighting FIP.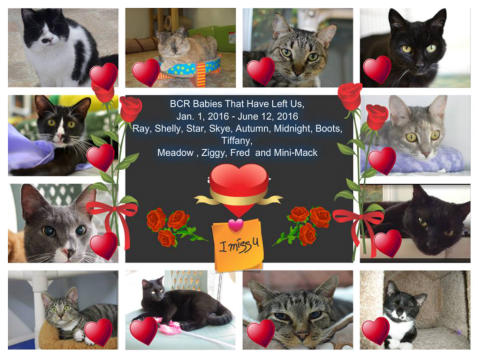 It has been a rough year so far saying goodbye to 12 cats.
9 were FELV+ Ray & Autumn were claimed by cancer also.
Part of our promise to the cats they will have a home forever
with us and that we will love and care for them the best we can.
We will let them go when it is time. Taking care of leukemia
positive cats is a fulfilling job knowing that we gave them a
chance to have a few more years of life that they would
not have but saying goodbye is always hard.
Tom had his surgery and has recovered well. He has adjusted
to being a tripod and is so much healthier than he was
when he arrived. He is so grateful to you who made it possible
for him to be taken care of!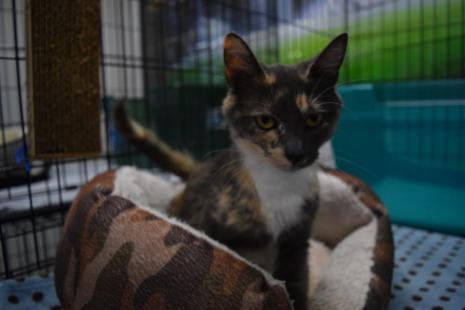 Caroline was dropped off at Animal Control in SC. (the same
bad shelter that Cookie came from) Her previous owner was
getting rid of all of her cats. I do not know why any one thinks
it is ok to just drop 12 cats off at an over crowded, under funded,
high kill county animal shelter. (shaking my head)
Caroline loves humans, is not over fond of the other cats but is
adjusting.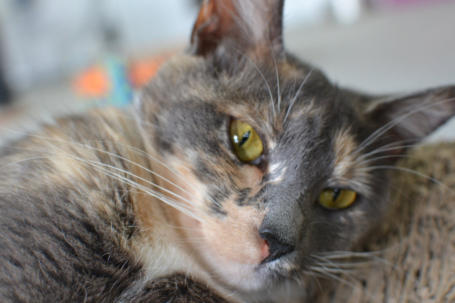 We have added 2 new MeShare cameras for you to watch
the cats! We are so grateful to the MeShare Shelter
Program for giving us these great camera's to share
the cats with you! If you sponsor a cat, you can watch
your sponsor cat all the time. We put them all on one page for
you HERE or here are the links to each individual
rooms:
http://ow.ly/YZ8I9
http://ow.ly/YZ8NZ
http://ow.ly/YZ8WD
http://ow.ly/dRTp301dbmA
http://ow.ly/RVH1301de8e
Some of the cute things you will see on MeShare & Ustream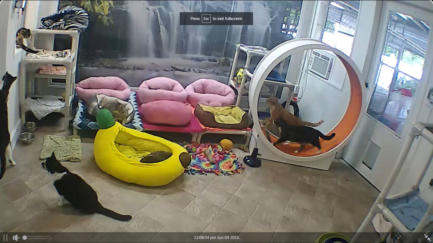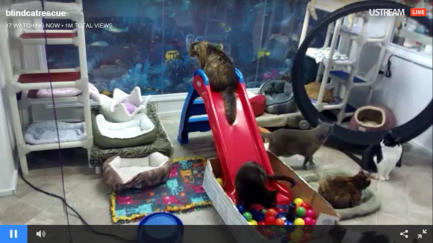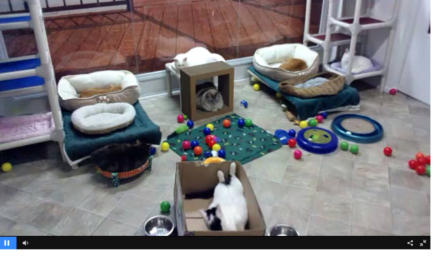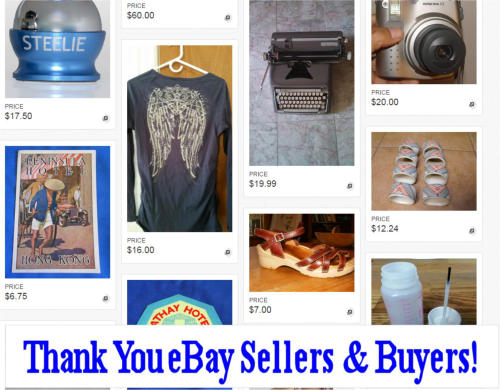 Thank you to our wonderful eBay sellers who share their auctions so
generously with the cats!! We are very grateful to all
of you!! Your kindness makes a huge difference in the quality of life
for the cat! Ebay does not provide us your contact info,
we are very grateful for your kindness!
Click HERE to see all the wonderful auctions
being shared with the cats!
If you have something you would like to donate and sell on
eBay but need help,
Please Email Mark, markrobertyarry@gmail.com
He has generously offered to help.
FREE WAYS to Help The Cats
Click every day:
http://shopforyourcause.com/click-to-donate/donate?ctd=4
Do you shop with Schawns? Use our link and
it helps the cats:
https://www.schwans-cares.com/campaigns/21909-blind-cat-kitty-care
NEW LINK!
Do you shop with Amazon? Shop through
http://smile.amazon.com
and pick Blind
Cat Rescue as your charity and their foundation
will make a donation to the cats
Make your own fund raiser for the cats. Share
your birthday, anniversary or anything else
you would like.
http://fundraise.blindcatrescue.com
Do you like to run, walk, jog? Download the
resqwalk app, pick Blind Cat rescue and then
will donate to us for every mile you walk.
Apple and droids :)
http://resqwalk.com


Did you know that if you click the previous button, you may read older copies
of the newsletters?