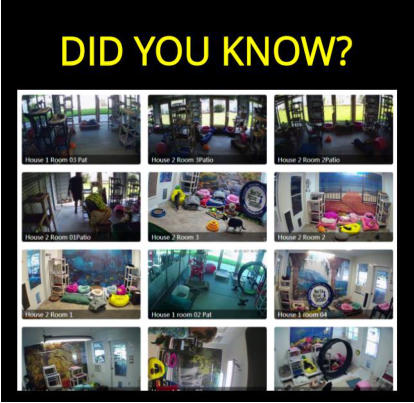 Did you know you may watch the cats on our 13
live cameras?
If you have a ROKU you may watch them live
on your YouTube app. On all devices you may f
ind them live on youtube.com/blindcatrescue
We have 12 live cameras on MeShare
On your laptop/desktop go to MeShare.com
log in is admin@blindcatrescue.com
password is: password
On Your devices, download MeShare from
your app store.
Your log in is the same:
admin@blindcatrescue.com
password is password
Come watch your sponsor kitties in real live time.
You have rated us a top charity 2 years in row!
Will you help us be awarded a third year in a row?
Just takes a minute :) For you that have already
rated us, Thank you so much!!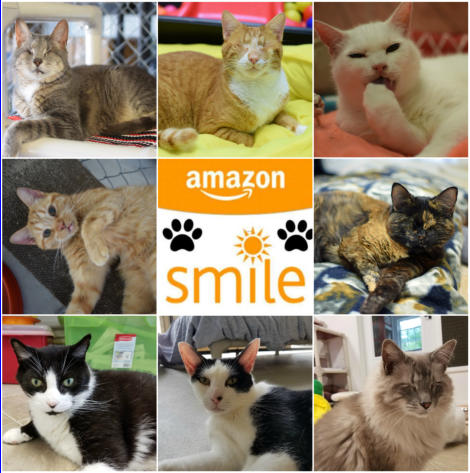 Do You Like to shop at Amazon?
Here is a way to help the cats at no cost to
you! Shop through Smile.Amazon
and their foundation donates to the cats!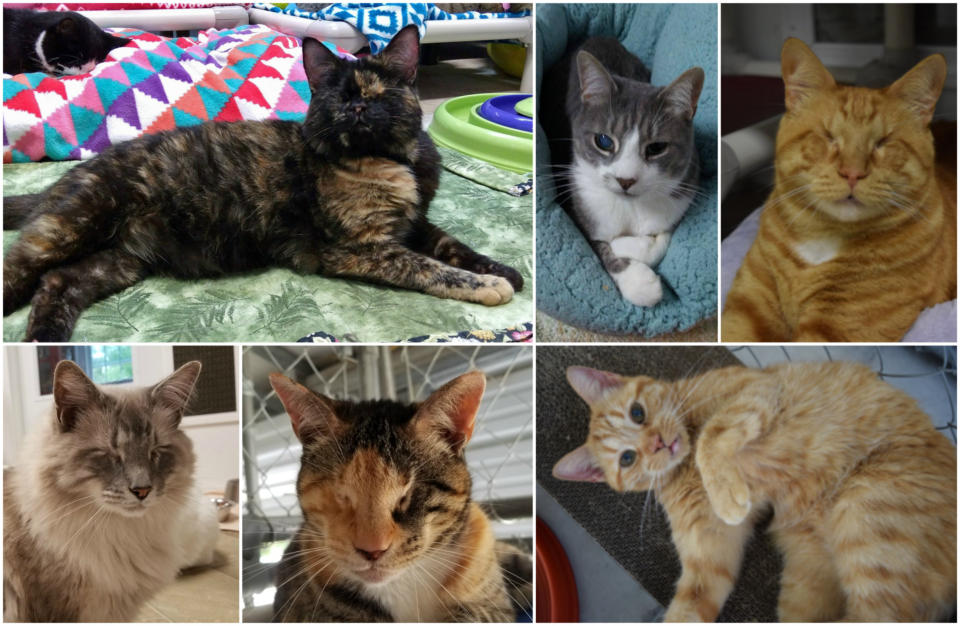 Our thoughts go out to you affected by the recent
hurricanes! We hope you and your families are
safe! We feel helpless that there is nothing we can
do to help each of you personally! Sending
you hugs and prayers. We hope your situation
improves quickly!
We were very lucky and the hurricane turned
away from us. We hoped it would go east
into the ocean but as you know that did not
happen :( We did get a few inches of rain
and wind but nothing to complain about.
Thank you everyone that contacted us to see
if the cats were ok.
We are doing a fund raiser to help other
animal organizations on the ground in the
affected area. They have taken on a huge
responsibility and expense to help animals
affected by the horrible floods. Many of
their shelters were damaged and must be
repaired.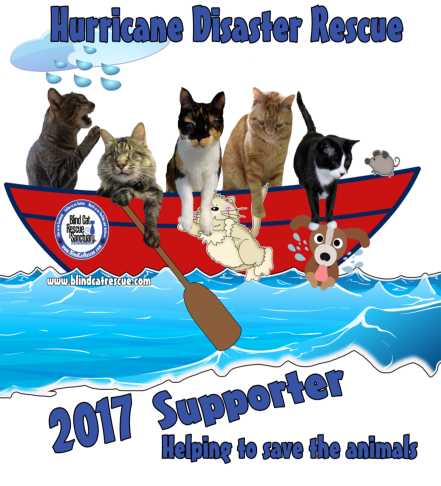 We want to do something to help others: 100% of all
net proceeds will be donated to 4 animal rescues who
are on the ground making a difference in saving flood
animals. We would like to have YOUR input on who
it is donated to. When you buy a shirt, please send me
an email (alana@blindcatrescue.com) with your
recommendation. We will put them all in a pot and
draw out 4 charities. We will post a copy of the
donations after the end of the campaign.
WINTER STORM SURVIVAL KIT FOR CATS
It is almost October! Where has the year gone?
Winter and the holidays are just around
the corner! Time for you to start making
sure you have your Winter Storm Survival
kit for cats!
If there is one consistent truth about weather, it is
that it is almost always inconsistent and unplanned
for. The first sign of stormy Winter weather
coming may be too late to start planning. Fall is a
better time. Your Winter storm kit may be stored in
a large closet, a basement, an attached garage, or
an unused room. Although a shed or a detached
garage may have more room, if you are snowed in,
you may not be able to get through for the needed
supplies quickly enough, if at all. This article is
written for a worst-case scenario: a major winter
storm lasting a week or longer. If its ferocity
approaches the massive storm of February, 2011,
you can expect blizzards, hail, snow and ice, and
lengthy power outages. You will not be able to
travel, so prepare to hunker down at home and ride
it out. CONTINUE READING HERE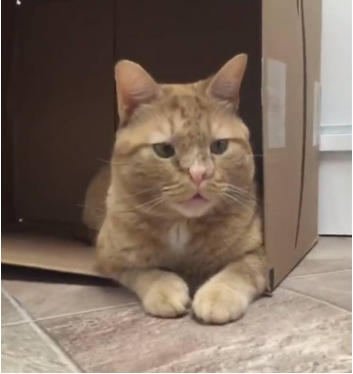 Meet Bunny. Bunny has seizures.
What is a seizure? A seizure starts as a result of
abnormal, excessive electrical activity in the brain.
This is the same for humans or animals.
"Epilepsy.com says, "Seizures may take many
forms." The outward effect can vary from
uncontrolled, violent, jerking movements
(tonic-clonic seizure) to a subtle loss of momentary
awareness (absence seizure), which may go
unnoticed by others. The syndrome of recurrent,
unprovoked seizures is termed epilepsy. Seizures
can be brought on by either primary brain disorders,
or they may develop as a result of a process outside
the brain. Conditions like low blood sugar, liver failure
(when it leads to "hepatic encephalopathy") or
conditions that make blood thicker (as happens
with high red blood cell or protein levels), are
examples of processes outside the brain that may
cause seizures. In addition, certain cardiac events
look a lot like seizures, but don't predictably alter
the brain's electrical activity in the same way.
Temporary loss of consciousness (syncope)
or collapse, associated with some heart rhythm
disturbances, can be very hard to distinguish from
seizures in some cases."
Seizures are less common in cats. Approximately 2 % of
all cats are affected by some seizure disorder.
Seizures can look scary. Bunny has full grand-mal
seizures. A full loss of consciousness and uncontrolled
muscle activity (tremors, twitching, and convulsions).
There is treatment to control the symptoms.
If you see your cat having a seizure or suspect your cat
may be having a mild seizure take them to the vet immediately!
You may read more about diagnosis and treatment HERE
I am sure you have seen their commercials.
Did you know that Chewy will donate $20
to the cats the first time you place an order
using our link? They have great customer
service, good prices and quick shipping. We
use them for shopping too :) CLICK HERE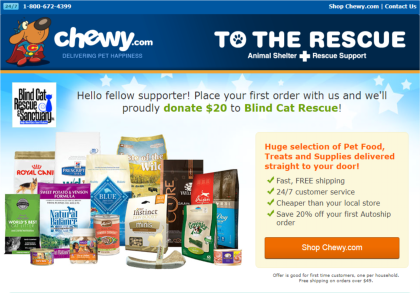 Something to make you smile!
I know everyone is so exhausted at all the
bad news out there. Floods, hurricanes,
just too much over load. And for you that
are still living it I know how exhausted you
are with it all. (We lived through Matthew
last year with almost a week of no electricity,
we do understand your pain!) We wanted
to give you a cute JibJab of the cats to
make you smile. Hope you enjoy it!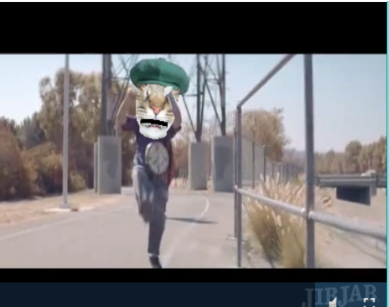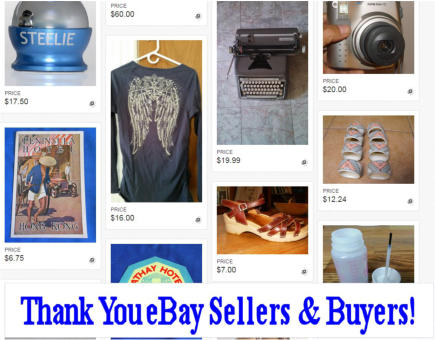 We are very grateful to our wonderful eBay
sellers and buyers for sharing so generously
of their auctions with the cats. We hope
you will check out all their wonderful
auctions HERE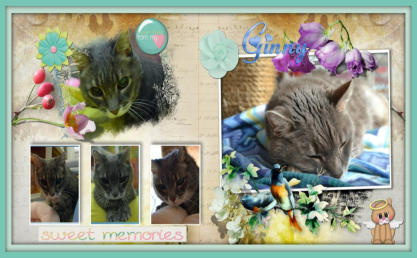 Sweet old Ginny. She came to us from
animal control after her family dropped her
off at animal control to be destroyed.
She had many medical problems that
we did our best to manage. She showed
she was in a lot of pain and it was time
to let her go. The pain meds were not
helping.
She spent her last day laying on her big
pillow. The staff spent extra time with
her and saying their good byes. We
had the vet come to the shelter so she
did not have to endure a scary car ride.
She died peacefully in my arms. She
was such a sweet old girl who go along
with everyone. We will think of her with
fondness.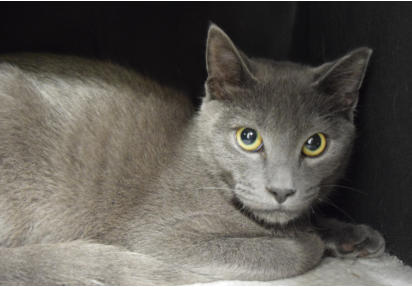 Sissy is the sister of Loki & Thor. She was
finally trapped and came to join her brothers.
She is leukemia positive. She is still
adjusting. You may watch her on her
MeShare camera Building 2, Room 2.
Melinda, one of our awesome team
members nick named the 3 of them.
Hissy, Pissy and now Sissy! Hope that
made you smile :)
Did you know that if you
click the previous button,
you may read older copies
of the newsletters?