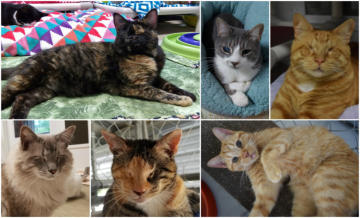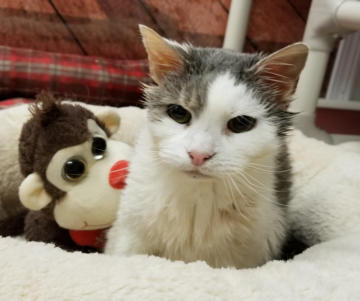 Mary Ann is a sweet senior kitty who came
to us from animal control in Tampa.
We contacted Davica in Florida who has
flown several cats to us to see if she knew
anyone who could help. With in an
hour the cat was sprung from the pound
and 3 days later got on a plane with Davica
(first class) to come to be with us.
When she arrived she was not in good
condition. She was very thin 5 1/2 pounds
(you could feel all of her bones.) She has
some kidney issues, infection and
hypertensive. Two months later she also
had become hyperthyroid. This poor old
girl can not catch a break.
She is also a polydactyl kitty, lots of
extra toes.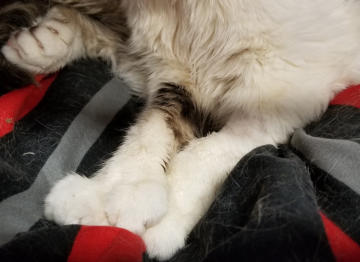 Her Pound picture, she looks so much
better now.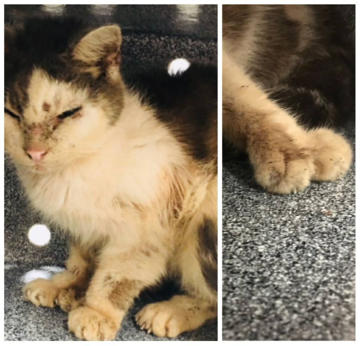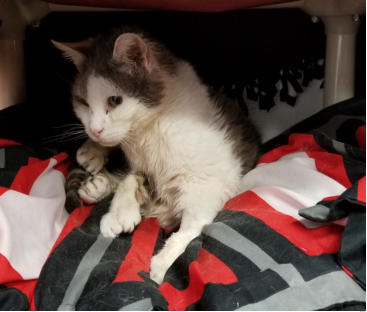 What is a polydactyl cat you ask?
A polydactyl cat is a cat with a
congenital physical anomaly called
polydactyl that causes the cat to be
born with more than the usual
numbers of toes on one or more of
its paws.
11 things you did not know about
polydactyl cats
by Laura Moss
Most cats have 18 toes -5 on the front,
4 on the back.
1. Polydactyly is a genetic mutation.
It is passed down through a dominant
gene so if one parent is a polydactyl
and the other has the normal amount
of toes, there is a 40-50% chance their
babies will also have extra toes.
2. The condition is usually harmless.
Having extra toes isn't unhealthy or
detrimental in any way except that it
can occasionally make trimming a
cat's nails more difficult.
However, there is also a genetic
condition known as feline radial
hypoplasia in which extra toes are
common, but it can actually be
disabling because it causes
underdeveloped or twisted forelegs.
NOTE, Mary Ann has a twisted leg
also so we have strong suspicion that
she also has this.
3. Some polydactyl cats have "mittens."
"Mitten paws" occur when the extra
toes are attached to the medial side of
the cat's paw, giving it a thumb-like
appearance.
Please click HERE to continue
reading the article.


You have rated us a top charity 3 years in
row! Will you help us be awarded a fourth
year in a row?
Just takes a minute :) For you that have
already rated us, Thank you so much!!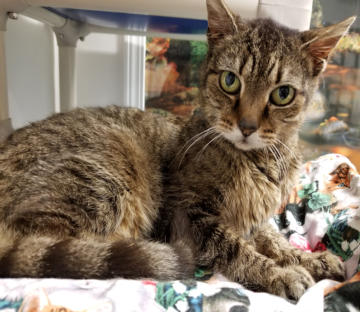 Stacy was found trying to survive at a
construction site. One of our sponsor's was
working on the site and took her to the local
shelter in hopes that she would find a home.
He kept in close contact with them and said
for her to not be euthanized, he would return
and get her if needed. When she test leukemia
positive they were told that her time was
coming to an end and other arrangements had
to be made or she would be destroyed.
Rick and Stacy (now you know how she got her
name) reached out to us to see if we could help.
Rick drove 5 hours to bring her to us.
She is a very very sweet girl who has had a very
rough life. Sadly her health is not good, she
has some masses in her chest and abdomen
and we do not expect her to have a long time
with us. Breaks our heart, she is just so sweet!!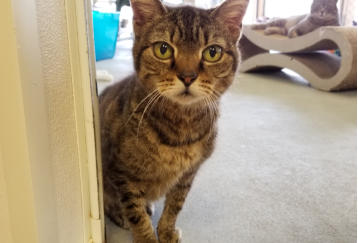 Hyperthyroid and your cat

Mary Ann, being a senior cat, has
now become hyperthyroid. It is really
interesting how fast they can go from
negative to positive. 2 months ago
she tested negative. She has gained
zero weight in 2 months so we retested
her. Now she is very positive.
Usually we have the cats have iodine
therapy but we do not feel her health
is strong enough. We have started
her on medication for it.
Hypothyroidism in cats is usually caused by
over treatment of hyperthyroidism, a
common condition in cats. If your
cat is losing weight but eating, rush to your
vet and have them do blood work.
For senior cats, you should have
them have a regular check up yearly
and have your vet do a full senior blood
panel. Cats can develop problems and
hide it. Blood work will help your vet
be able to better care for your cat.
Here is an article Mandy Cooper
did last year for us. It tells you what
the symptoms are and more.

Michelle Stehrenberger was the
grand prize winner of a trip to BCR
from our raffle. She and her friend
Atasha came last week for their trip.
Here are a few pictures from their
visit.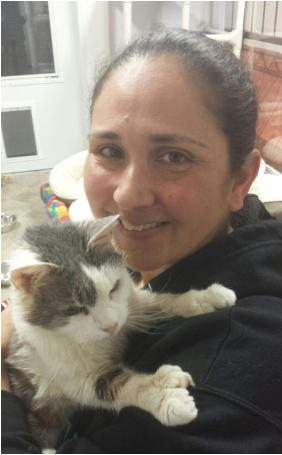 With her sponsor kitty Scotty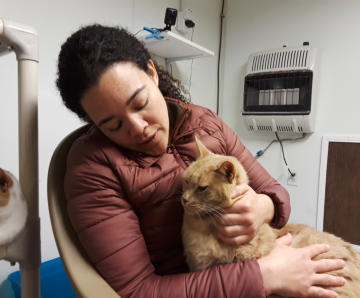 You can't visit without a cuddle
with Snicker