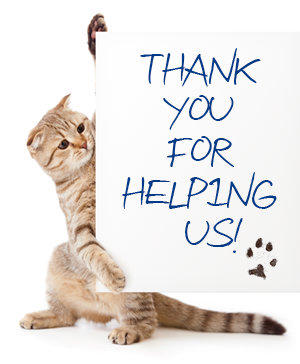 Thank you everyone who purchased a Peace, Love &
Cats shirt! You raised $5430.00 to help save cat's lives!
Your kindness will spay/neuter 108 cats! Your generosity
will prevent thousands of homeless babies from being
born! Thank you so much for your generosity!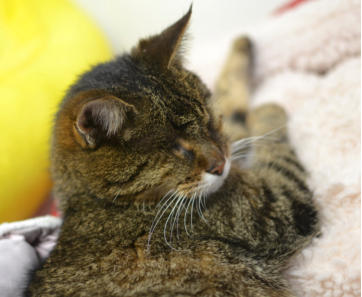 Keller is an old fellow (18 ish) who has been with us for
9 years. He has had some health issues during the
years. We had him have radiation treatment for
hyperthyroid. He has some kidney disease.
He also sprays like crazy and walks in circles.
He is a sweet old fellow who gets a long well with
the others.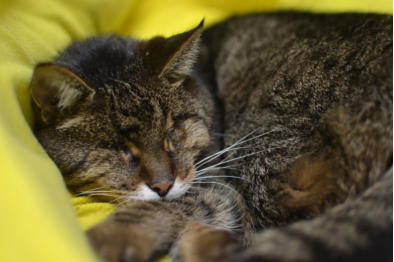 You may watch him live on Ustream on Wednesday.
Why do cats walk in circles?
They could have medical issues. (Ours have had
very through exams and x-rays. (He does not
have medical problems.)
Could be an inner ear issue. (He does not have that.)
Could be a way to exercise without hitting anything.
Could be anxiety, Could be boredom. We don't know
why he does it, he is not talking and telling us (big smile)
If you watch him, don't be surprised when you see him
walking in circles.
Are you allergic to cats?
First I thought I would tell you a little bit about cat
allergies. Sadly many of my friends end up in the
animal control because people get a kitten and then
discover that someone in the home is allergic to it.
Many times they just dump us off at the animal
control because they do not know they have other
choices.
Cat allergies are twice as common as dog allergies.
Many people think they are allergic to our fur, but
that is not true. What they are allergic to are the
proteins in the cat's saliva, urine, and dander
(dry flakes of skin)
So if you have allergies, you have an oversensitive
immune system. You mistake our harmless cat
dander as something dangerous and start attacking
them like you would if you had a virus. The systems
you have are the side effects of your body
attacking the dander. Continue reading HERE
If you love the cats and what we are doing,
please take a minute to rate us. You made
us a top rated charity in 2015 & 2016. Will
you help us be a top rated charity 3 years
in a row?
Thank you so much to you that
have already rated us! Your ratings
help us with future grants!
We hope you will take a minute to
rate us if you have not done so yet :)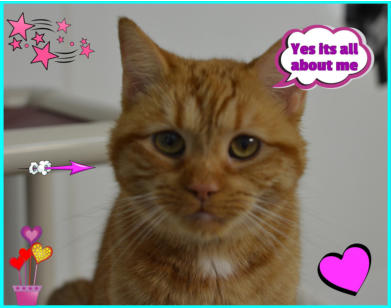 Candy came to us 6 years ago from animal control.
We were told she was blind and developmentally
compromised. She is neither. The reason animal
control felt she was "compromised" is because
she would jump off of climbers instead of backing
down them like most blind cats do. She does that
because she can see.
She is a handful. We often say she is spoiled.
Candy gets what she wants :) She loves to be held
in your arms like a baby.
Because of your support she gets to have a life
with love and quality care.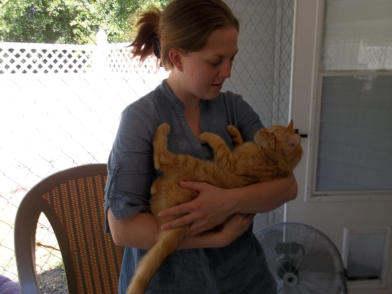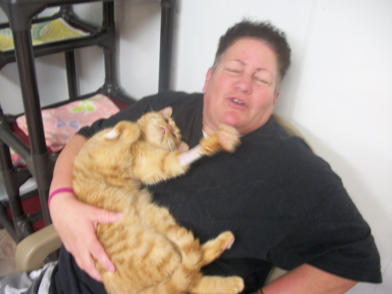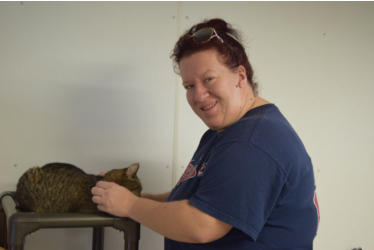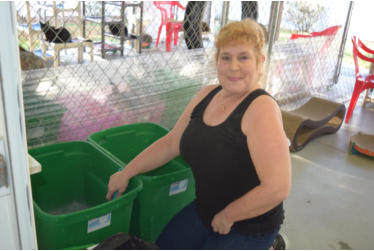 Elizabeth came to visit us from Louisiana. She also sponsors
Jamie. Diana drove down from Ohio.
The ladies both wanted to come visit the cats and help for a
few days and are staying at the guest house. You may watch
them doing boxes and doing some of the tours.
You may come and visit the cats and stay at the guest house
for free. The only requirement to staying at the guest house is
you must come clean in the morning.
Email me if you want more info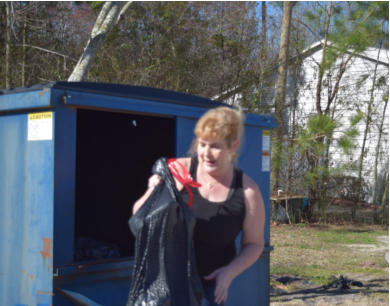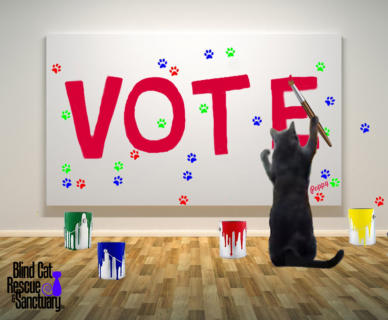 Please help Blind Cat Rescue win 5000 Meals for
the cats! Scroll down under the form to Blind Cat
Rescue and click the VOTE button...
do NOT fill out the form

:)
click here==> http://ow.ly/VRf73098Uk9
Thank you for helping!! One vote every 24 hours :)
If you follow us on Facebook but do not see our posts in
your newsfeed, please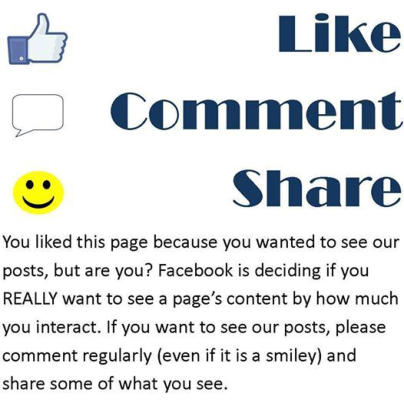 Did you know that if you click the
previous button, you may read
older copies of the newsletters?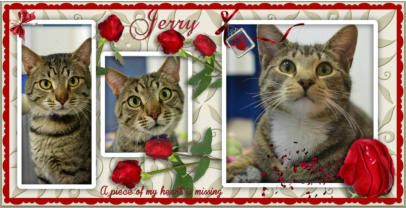 Sadly Valentine's Day Jerry began having problems breathing.
The vet and I agreed that it was time to let him
go. His x-rays showed he was full of tumors.
He was such a sweet fellow and will be missed by
all of us that knew him.