Your hard work will be used to spay/neuter 70
stray/feral cats saving thousands of homeless
babies from being born! You are helping
change their lives! We are so grateful for
your hard work and dedication voting!
Thank you so much for helping!
All the cats do have caretakers feeding them
and will be cared for, we just need to stop them
from reproducing more kittens without
homes.
We wish every one could have won, there
were 2nd and 3rd place prizes. We are very
grateful to you for making it possible to help
these cats.
Can You make your cat sick?
Someone asked me that and I thought,
I don't know, do you?
Yes you can actually give your cat a few
illness's. When a disease is shared between
animals and humans, it is called "Zoonoses."
Your regular common cold and most viruses,
for that matter - are species specific. Dogs
get dog viruses, cats get cat viruses. You
do not have to worry about getting your pets sick.
There is some question when H1N1 flu
was active if some cats did get sick from
humans sharing the flu with their cats.
Going the other way, your cat can give you
some zoonoses. Parasites, rabies, ringworm,
round word, salmonellosis, hookworm,
toxoplasmosis for example. Most of these are
from coming into contact with animal feces or
siliva. Also from fleas, mites and ticks.
Best habit is to wash your hands often and
keep your pets pest friend and their environment
clean. You will both stay healthier.
NEW LIFE FEEDS ON FACEBOOK!!
We have moved our live tours to Facebook
For those of you not on Facebook, they are
recorded and added to our
Youtube.com/blindcatrescue channel
within 24 hours.
This was a business decision. Facebook's
newest algorithm is giving live broadcasts good
traction verses the 1-3% each post would get.
We are meeting new people who have never heard
of the cats. Hope you will log on and watch.
We also have lots of live feeds that you may watch
24/7. We broadcast on
ROKU
http://ustream.tv/blindcatrescue
http://ow.ly/YZ8I9 (FELV room)
http://ow.ly/YZ8NZ (crazy blind room)
http://ow.ly/YZ8WD (another crazy blind room)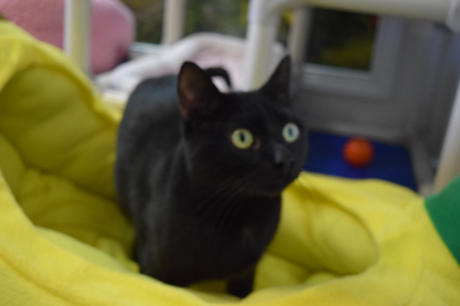 This beautiful black panther is an FELV+ kitty. He arrived
from animal control in South Carolina where he was to be
euthanized because he test positive for leukemia.
He is a very friendly kitty to humans, he is not fond of a few of
the other cats. He seems to have the chihuahua dog
syndrome. He is a small cat and picks fights with the largest
cat. We hope he simmers down and stops with the fights.
Right now he is in a crate for time out and allowed out to
play until he picks another fight. He thanks you for helping
make saving his life possible.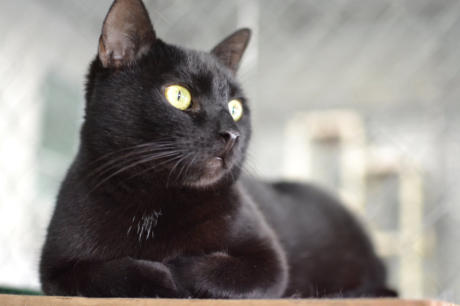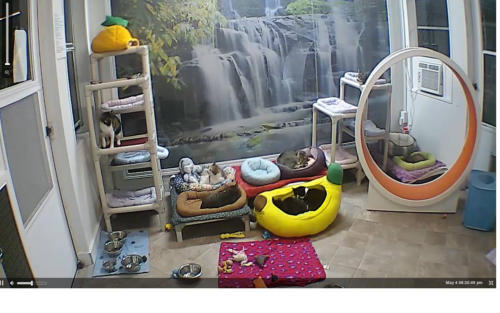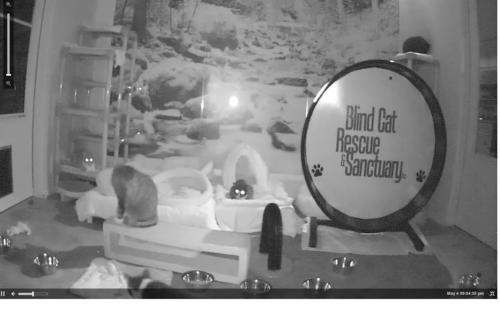 A few screen shots from the MeShare cameras
The lights were out in the building, spooky looking
We have a private Facebook group of chatters
from Ustream that get great screen shots from tours
and the MeShare cameras. if you would like to join
please email me to add you
alana@blindcatrescue.com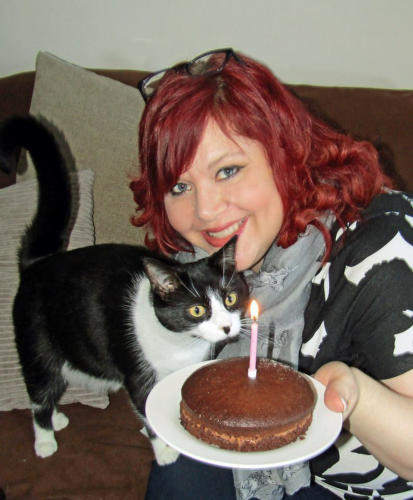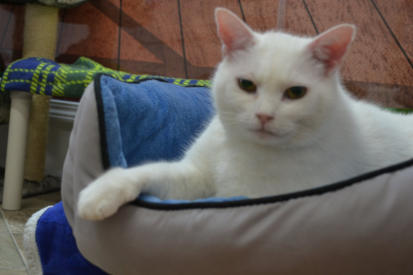 Finding B.C.R and how it changed how I see.
Being a crazy cat lady and the owner of three
amazing cats, I spend most of my spare time
hunting down cute cat videos on YouTube,
There I was one evening browsing, jumping
from one video the next when I saw a video
for a place called blind cat rescue, I clicked on
it not realizing it was broadcasting live and in
front of me was the biggest, most handsomest,
white Marshmallow of a cat I had ever seen,
his name was Scotty. He walked across the
screen and took up the whole screen, he was
adorable and I was hooked.
After a few clicks on Google I found out that BCR
was a forever home for cats who are blind, FELV
or FIV positive, I didn't really know what to expect
when I started watching,
I had heard of FIV before but I didn't know anything
about it and I certainly didn't know what FELV was.
At the beginning I just tuned in to watch the cats,
I was amazed by these blind cats who got around
and acted like normal cats, now, I know that sounds
stupid but I'd never had any personal experience
with blind cats before but I had read about them and
I'd read that you could never move your furniture that
they couldn't climb, jump or run about because they
couldn't see, they would walk into things and hurt
themselves. Watching these cats made me realize
what a load of nonsense that was, not only did they climb,
.jump and play, they can catch bugs in mid air!
They have a saying at BCR, you don't need eyes to see
and that is very true of these cats, if you think blind cats
act any different than a cat who can see then you are
mistaken and sadly it took videos online to show that to me.
It also took BCR to show me that a cat with FIV could live
a perfectly normal life, again I had read about the
feline immunodeficiency virus and I thought their lives
would be badly effected and largely reduced. I was wrong,
these cats can live long, happy, loving, lives.
FELV was something I knew nothing about, when I became
aware of how many cats are put to sleep for testing positive
I was heartbroken, it is true that FELV sadly will take the
life of the cat but that cat deserves to know what love,
comfort and happiness is and BCR does just that, They
take in these cats that no one wants and shows them
what true love is, knowing they will have to say goodbye
to a cat they have cared for and loved, they still take
in more, It takes a special kind of person to do that, a
person with a heart of pure gold.
Finding BCR changed my life, it introduced me to a
place where the crazy cat lady in me can be indulged
and watch the cats all day long, a place where I can learn,
A place where I can (and i have) ask for help, a place
where other viewers became my family. If I hadn't spotted
that video I would still be living in ignorance, It shows me
how important social media is for getting information out
there, sharing videos and stories about BCR can not
only help the cats at BCR, it can help change other
people views, just like it changed mine and it can help
save cats lives, people need to know that a cat being
FIV positive isn't the end of the world and that
the blind cat in the shelter really does deserve to have a home.
Clare Yates (cookie cat)
Clare is a regular Ustream chatter and lives in the UK with
her 3 kitties.
If you would like to share your story
and have it in our newsletter. Please
email me: Alana@blindcatrescue.com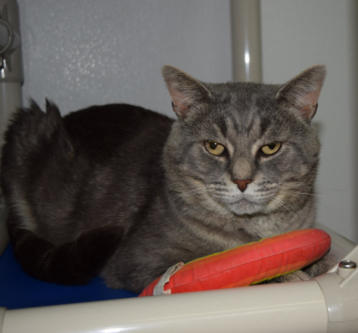 Big Bob has had some struggles with his health but he has gone
a couple weeks with out being hospitalized. He has still
run a few fevers but medication has taken them back to normal.
We are hoping the medications he is on will resolve his health
issues for this go around. He is FELV+ , we expect to have
a health crisis or two.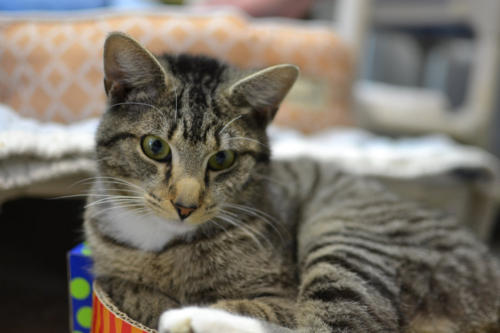 Ziggy is another FELV+ kitty that has had some issues.
We went to Raleigh with him because there was a concern
he might have a nasal tumor. He has a CT and Nasal
Endoscopy done. No tumor but one heck of a severe upper
respiratory infection. He then developed aspiration
pneumonia. He is on the kitchen sink with antibiotics.
(that means he is getting a lot!) He does have a feeding tube.
He has just started eating some on his own. We think the
medication will resolve his health issues for this go around.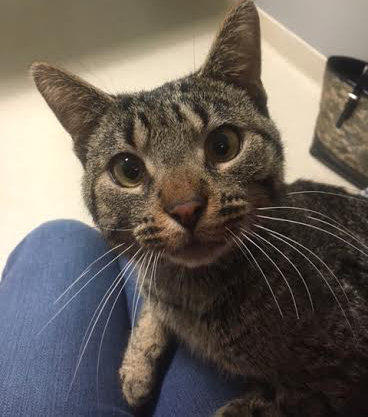 Tom is going to Raleigh Monday in hopes for having his
surgery to repair his ACL's. He has gained 2 pounds, is
walking around better but we know he is still uncomfortable.
He is a very nice cat!
Your donations make is possible for us to help them!
Thank you so much for helping them!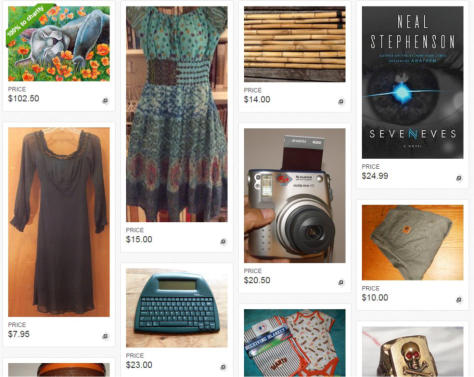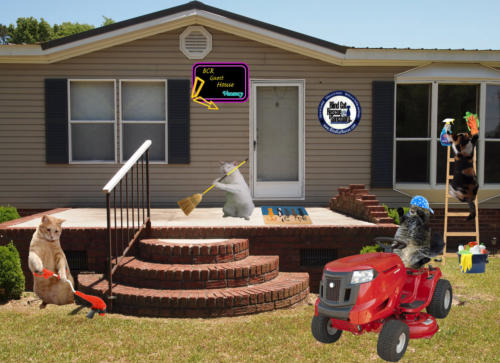 Make us your vacation destination
We have a guest house available for our out of
town guest to stay in. If you come and help
clean, there is no charge. After the cleaning
is done, we play with the kitties. Email me
if you would like to come and visit :)
alana@blindcatrescue.com
FREE WAYS to Help The Cats
Click every day:
http://shopforyourcause.com/click-to-donate/donate?ctd=4
Do you shop with Schawns? Use our link and
it helps the cats:
http://schwans-cares.com/campaigns/21909-blind-cat-kitty-care
NEW LINK!
Do you shop with Amazon? Shop through
http://smile.amazon.com and pick Blind
Cat Rescue as your charity and their foundation
will make a donation to the cats
Make your own fund raiser for the cats. Share
your birthday, anniversary or anything else
you would like.
Start yours here!
Do you like to run, walk, jog? Download the
resqwalk app, pick Blind Cat rescue and then
will donate to us for every mile you walk.
Apple and droids :) http://resqwalk.com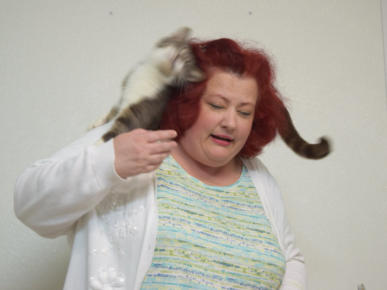 Random Pictures, Hope you enjoy
Peanut making sure a visitor knows he is there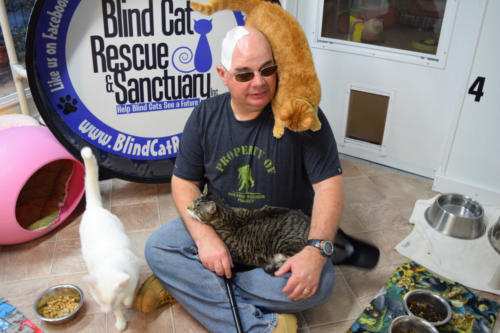 Candy making sure he knows she is there


Did you know that if you click the previous button, you may read older copies
of the newsletters?
Thank you to our wonderful eBay sellers who share
their auctions so generously with the cats!.
You may find all the auctions being shared HERE