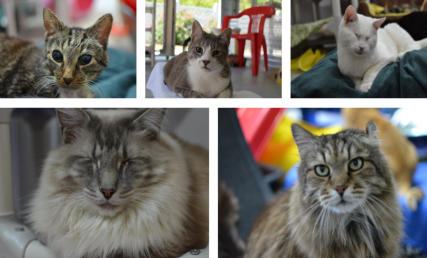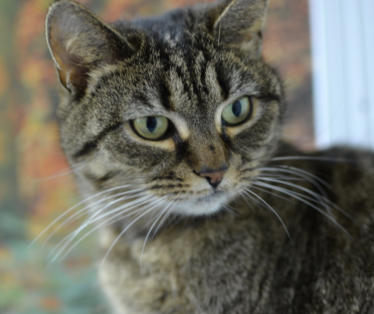 Taffy is a sweet leukemia positive cat who came to live
with us 5 years ago.
She was found living as a stray begging for meals
around the neighborhood. Finally someone decided to
help her and took her to the vet to make sure she was
fixed etc. Sadly she found that she also tested
leukemia positive. She knew she could not put her back
outside and started trying to find a place for her to go.
Taffy was blessed to have an angel on her side.
Taffy loves to play, she will play "basketball" with toys with you.
You throw them to her, she will smack them back to you.
Taffy's nickname should be Houdini. When she first
arrived she really disliked cats. We were going to try her
out as a lobby cat. Her first night out of a cage we had a
severe thunderstorm. After hearing a very loud clap of
lightening striking a tree close by, Taffy tore the plastic
spacer out next to a window air conditioner and escaped!
We saw sightings of her a few times but she would not
let us catch her. We have many out buildings on the farm,
there were plenty of places for her to hide. We kept putting
food out at night for her. We tried traps but she was not
going for them.
After not seeing her for a month we felt like she had maybe
moved on and stopped putting food out. (We were having
a horrible problem with raccoons!) Open house weekend
an employee was standing outside talking on the phone and
who comes out from under the shed? Yeap Taffy. I guess
she was hungry and hoping for a meal. She was scooped
up and back inside a safe cage she went! She moved into
a secure room a few weeks later. She has never made
another attempt to go outside again.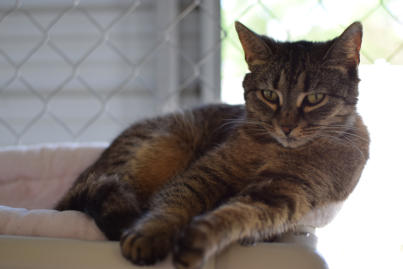 Now Taffy is entering the end of her stay with us. The
leukemia has awoken and she is fighting intestinal cancer.
We are spending extra time loving on her for the time she
has left. She thanks you for all the caring and support you
have given the cats that allows her to be in a loving
environment and cared for.
Would you like to win $5,000?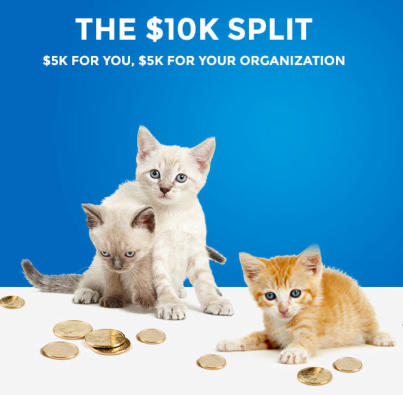 You may win $5,000 and $5,000 for the cats
at Blind Cat Rescue!
Please pick Blind Cat Rescue
We are in zip code 28384 - if it ask you
(also set it to 2 miles away and we come right up)
One entry per person/email address
CODE LOVESHELTERCATS - 100 points
Location - Other
CODE SHELTERBONUS116 - 50 points!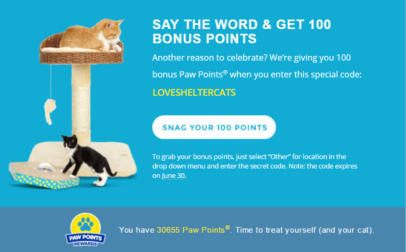 If you do not use your
points
,
please
consider
donating them
to the blind
cats. Freshstep lets us cash the
points in for a free pallet of litter!
We use over 60 boxes each month.
A pallet is $1000 we can use for medical
care for the cats!
Link to donate points
http://ow.ly/lPoF302ojhP
or you can just email them to me :)
alana@blindcatrescue.com
Thank you for your generosity!
Did You Know You can watch the
cats LIVE 24 hours a day?
Watch on all your devices,
streaming devices and Roku!
On every device download the YOUTUBE app
Install and open the app.
In the search box, type blind cat rescue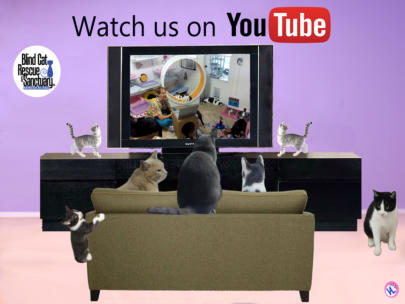 LIVE on MESHARE - 5 cameras and 5 rooms!
Watch on your phone, laptops, tablets and desktop
Download the MeShare app from the app store for
your phone & tablets. Email alana@blindcatrescue.com
and I will send you the links to each camera. (Make sure
you give me the email address that you set up for
meshare) After I send them to you, you just log into meshare
and all the camera's will be there.
For your Laptop and Desktop, go to
www.meshare.com and sign up for an account (it is free)
Email alana@blindcatrescue.com
and I will send you the links to each camera. (Make sure
you give me the email address that you set up for
meshare) After I send them to you, you just log into your
Meshare account and all the camera's will be there.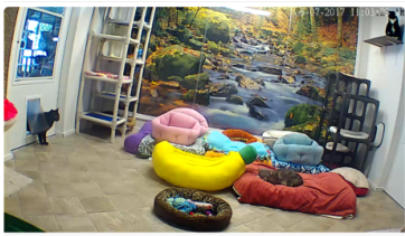 Also Live on Ustream.tv/blindcatrescue
For your phone or tablet, download the ustream app from
your app store. Log into the app and put blind cat rescue
in the search box, you will find us there :)
On your desktop or lap top, log into
http://ustream.tv/blindcatrescue and you will be there.
You may chat with us live there also.
This camera changes rooms each day, you will see a
different group each day. We also do live chat and
boxes on Thursday, Friday, Saturday & Monday
nights at 6:15 pm EST You may tune in and talk
to us.
Live On Facebook
On your phone or tablet, download the Facebook app.
Log into your account on the app and search for
Blind Cat Rescue.
We Do several Live tours of the shelter each day.
Monday - Saturday noon Eastern time
Monday - Sunday 3 pm EST
Thursday - Monday we add 6:15 pm & 10 pm Est
On your Desktop and laptop log into your facebook
account and visit our Facebook page
Kendra came from out of town to stay for a week and volunteer.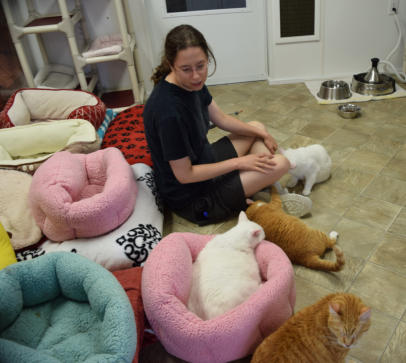 We asked her to write a few paragraphs for us about her stay.
"I've been following Blind Cat Rescue And Sanctuary since July
of last year, but it wasn't until late March that I actually got a
chance to visit. From the tours and newsletters, I was already
familiar with the great job that the staff and volunteers do to
make a difference in the cats' lives. But talking to the staff and
seeing in person the love and care that they have for these cats
truly touched me. It was then that I was sure I had to help
give back with my time and energy!
I spent a week volunteering at BCR. Helping out with the daily
chores and some of the tours helped me gain an even deeper
appreciation of all the hard work that goes into making this place
a true sanctuary for the cats. In between work I was able to
spend a lot of time with the cats. It was so heartwarming to see
how much they loved getting attention from me and all the
other visitors.
I have so many great memories of the time I spent at BCR.
Most of all, I'm glad I got the opportunity to help BCR continue
their work to provide a safe haven for cats who would otherwise
have nowhere to call home. More than ever I want to continue to
support their work, and I definitely plan to come back and help
again! "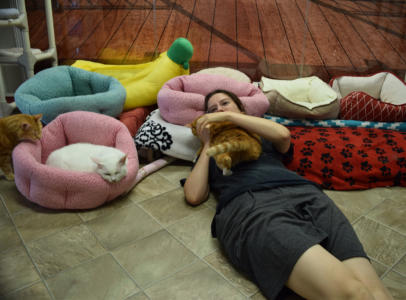 If you live out of town, You are welcome to come
visit :) We have a guest house for our of town
visitors to stay. The only requirement is you help
clean in the mornings :) Please email me if you
would like more info alana@blindcatrescue.com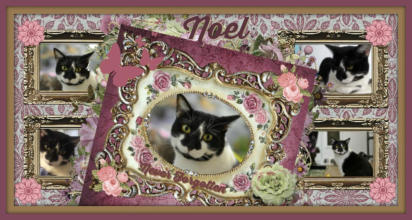 6/1/2017 Sadly Noel lost her battle with leukemia.
We knew that morning that the time had come.
Her abdomen began filling with fluid. We believe
it is better to go on a good day verses a bad day.
Waiting another day or 2 she would have been
suffering. She spent her last day sunning on the
patio, getting loved on, shared some good bye
head bonks with the other cats. She was
in my arms purring to her last breath. We were
blessed to have had her in our lives for a year
and half. She was a double positive.
She was really dealt a bad set of cards.
HOW TO INTRODUCE A NEW CAT
OK...So you read someplace that having 2 cats is no more
trouble when you already have one. And, because you
already have one you realize the benefits...double the
licks, hugs, lap time, and ever so vocal chats...far
outweigh any extra bit of added responsibility. While
this all may be true, cats are very territorial and introducing
your resident cat to the pending newcomer is a
completely different story.
A good start to the 'nose to nose' meet involves keeping
the cats separated (by a door is preferable) while placing
a blanket or toy used by one cat in the other cats territory.
Try rubbing a clean sock along the facial pheromones of
one cat and place it with the other cat. This allows them
to get used to the scent of each other. Feeding the cats by
the closed door will allow them to smell and hear each
other while eating 'together'...getting them acclimated by
using a positive activity. Do this for a couple of days and
if there's no aggression (growling or hissing) and they are
playing a paw-game under the door, then you know you
are heading for a quick and successful intro! If they seem
comfortable and no more than curious, it's ok to move
ahead by opening the door. Continue to keep them
separated by using a tall window screen, pet gate, or
something with holes in it that they can't jump over.
This allows them to see each other and have more
interaction. Feed them 'together' and supervise the visits
for a few more days. Try playing with both of them under
the screen or gate to encourage them to be friendly
and associate the other cat with fun and play-time. If
it goes well and they seem anxious (not agitated) to meet
each other, then you can try removing the gate and slowly
let them interact while still supervising. If you encounter
any aggression, don't be discouraged. Just go back a few
steps in the intro process and proceed more slowly.
Sometimes they just need to feel a little more secure in
their environment before the actual nose to nose meeting.
The entire process should take about a week, so be
patient. A proper introduction will create lifelong pals and
give you two happy, healthy companions in a stress free
environment!
Did you know that if you click the previous button,
you may read older copies of the newsletters?